*2017 Team Registration is CLOSED.*

Information on the 2018 Community Chain Reaction will be posted as soon as it becomes available. Please fill out the "Contact Us" Form if you are interested in forming a team!
---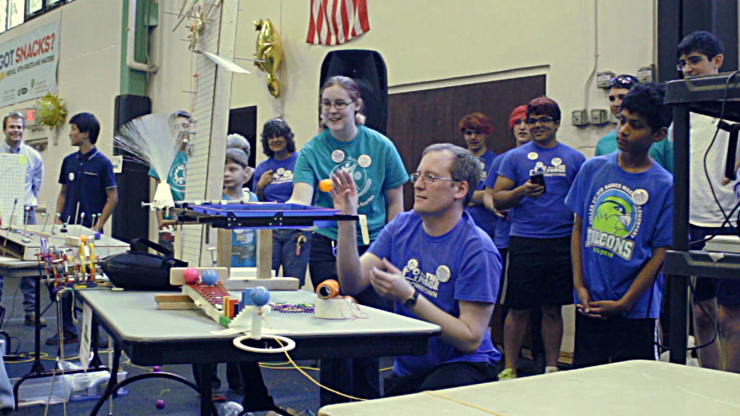 Herb Young Community Center Gymnasium, Cary, NC
Saturday, May 6, 2017
12:30 PM -- Teams check-in and begin setting up contraptions
1:30 PM - Open to Public. Family friendly, hands-on design and engineering activities
Every team should have their contraptions ready to go no later than 2:00 PM
2:00 - 3:00 PM - Chance for public to explore and ask questions about contraptions.
Please have at least 1 team member at table during this time
3:00 PM - Introductions of event participants & discussion of contraption highlights
All team members should be at table by 3:00 PM
3:30 PM - Trigger …The Community Chain Reaction...
4:30 PM - Closed to Public. Beginning of contraption breakdown and load out.
All teams should leave their contraptions on table until 4:30 PM for public viewing
*2017 Information below is for reference*
For the 2017 Community Chain Reaction, teams with a recommended minimum size of 2 and a maximum size of 6 people can register for a 6 foot table where they can display their own chain reaction contraption. Contraptions will be designed and set up so that one contraption will set off the next contraption, which will set off the next one, and so on, until "The Ultimate Kinetic Machine" finale, the culminating activity to be set off! In addition to the chain reaction demonstration, attendees and the general public will be able to participate in a number of ongoing family-friendly, hands-on STEAM (science, technology, engineering, art, math) activities.

The CCR is open to teams from any background and age. Friends, family, scouts, schools, university groups, clubs. Not sure how to get started? Check out a couple videos. Some of our favorite ones are OK Go's "This too Shall Pass" video, or some of the easy but very cool tricks on DoodleChaos' youtube channel.

Regular Team Registration
$40 per team. recommended minimum team size: 2, max team size: 6.
Scholarships available. Please contact ccr@theforgeinitiative.org
Registration includes 6 foot table, 1 string pull/golf ball drop connector, and event admission for 2-6 team members.

*Team Registration is CLOSED*
You can also sign up to receive the latest CCR information by clicking THIS LINK.

CCR Contraption Guidelines*
Overall, the goal of the guidelines are to make this event safe for participants, viewers and the gym floor! More guidelines may be added as questions come up and as people become more creative in their contraptions!
Maximum Number of Team Members per team: 6, any age.
Space requirement:

Contraption sits on a table 2.5 feet by 6 feet. The table can either be up (30 inches) or collapsed on the floor. If collapsed, the golf ball paddle connector should stand about 30" above the floor.
Contraption can extend up to 1 foot on all sides of the table and up to 6.5 feet from the floor.
Any part of the contraption extending higher than the 6.5 foot limit must not weigh more than 2 pounds in aggregate. This out of concern for damage that might be done by falling objects.
Duration Suggestions:

Aim for 30 seconds from beginning to end, or more if possible
More than 3 minutes might be excessive.
Connection Requirement:

You will receive a string pull/golf ball drop connector when your team registers and pays registration fee.

Picture of both items we will send to team (coming soon)

Start your contraption with the following trigger:

about a 1" pull of a string that will pull with the force of 1 golf ball dropped about 20 inches
End your contraption with:

any mechanism that can displace a golf ball that is sitting on a standard golf tee located near the end of the table and level with the surface of the table. (tee's may vary so make sure you can push the ball hard enough that it falls off the tee) (video example coming soon)

Strings will be connected from table to table with steel clasps (cucurbit necklace clasp) such as those shown
Materials Requirement:

Teams responsible to bring ALL materials required for their contraption
No use of chemicals (small amounts of baking soda and vinegar OK -- again, the concern is to keep the gym floor clean and minimal impact on adjacent tables)
No more than 1 cup of water may be used -- and try to collect all the water so it doesn't get on the floor.
Battery-powered gizmos OK (limited plug-in power may be available, upon request, not guaranteed), batteries limited to dry cells and small Lithium-Ion batteries (the style used in RC cars, raspberry pi power packs, etc). No wet cells, no AGM, no more than 12 volts for the battery. While we do not impose a specific watt-hour or amp-hour limit, we ask that you be thoughtful about safety and spectators.
Open flame and fireworks are not permitted.

Safety
If your contraption is taller than your team members, please be careful of tipping
The use of safety glasses is highly encouraged while building contraptions
Close-toed shoes are encouraged around all contraptions. Falling parts are a high probability.




* These guidelines/rules are here to make the event more fun and safe for everyone. If you find one of the restrictions is getting in the way, please consult with us before violating it. You may reach us at ccr@theforgeinitiative.org. We'll be glad to talk through the reasons why the restriction exists and work with you to see if it makes sense to make an exception for the overall event or specifically for your team.